Businesses often look to traditional long-term net leases for commercial office space. However, the landscape of what we call our workspace is changing—and so are the office rental options. Globalization and technological advances have created a business landscape where diversity and innovation are key factors for success. Effectively incorporating these elements into any business requires a willingness to be flexible and open to change. For this reason, flexible office spaces have become a popular alternative to traditional office solutions.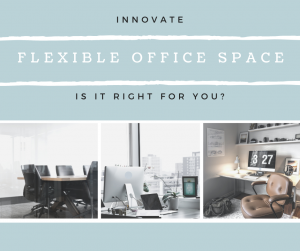 What is a flexible office space?
Flexible office space gives business owners access to fully equipped private offices, meeting rooms, and conference areas without the commitment of a long-term commercial lease. These spaces include office amenities and services for a flat rate. For example, at the DataTech Business Centre, a company can rent office space by the hour, day, month, or year. These offices are equipped with furniture, phone, internet, washroom, and lunchroom amenities, as well as the reception and janitorial services.
Why choose a flexible office space?
Low Cost 
Flexible office spaces offer high value at low prices. Staff gets all the benefits of a traditional workspace and business owners pay a flat rate for a fully serviced office. This is ideal for any business looking to reduce operating costs and is especially great for new and growing organizations that need flexibility.
Immediately Available
Joining a flexible workspace is fast and efficient. As a company grows, it needs change.
For example, a business owner has been working from home for a few months but has landed a big contract that requires more team members and office space to bring them together. The stress of looking for commercial space and finding the right furniture and equipment is eliminated by the ease of signing up and getting access to desks, chairs, and fast internet in a matter of minutes.
Satellite office solutions
Companies are no longer limited to hiring staff within a set geographic area. With flexible office spaces, businesses can choose the best candidate for the job and set them up with a flexible office regardless of their location. Satellite offices allow for diversity and encourage innovation within a business.
One size does not fit all. Flexible office space provides an alternative to traditional long-term leases. The benefits of flexible office space include saving on operating costs and easily obtaining office amenities anywhere you need them.